Rotary Roll Label Die Cutter Machine Magnetic Cylinder
Rotary Label Cut Flexible Dies Used For Multi-Layer Plastic Cards & Labels
Product Description
Product Information
Product Features
Available as both a solid rotary and flexible magnetic folding carton die
Quick manufacturing turnaround
Product Applications
Folding Cartons
Blister cards
Paper cups
Presentation folders
Processed Materials
Paperboard
Markets For Use
Consumer Goods
Medical & Pharmaceutical
Industrial & Automotive Fabrication
Personal Care
Packaging (includes Flexible Packaging, Folding Carton, Liquid Packaging)
Product availability may vary by region. Contact your sales representative for additional details.Product Information
Product Features
Available as both a solid rotary and flexible magnetic folding carton die
Quick manufacturing turnaround
Product Applications
Folding Cartons
Blister cards
Paper cups
Presentation folders
Processed Materials
Paperboard
Markets For Use
Consumer Goods
Medical & Pharmaceutical
Industrial & Automotive Fabrication
Personal Care
Packaging (includes Flexible Packaging, Folding Carto
n, Liquid Packaging)
Product availability may vary by region. Contact your sales representative for additional details.
The company introduced German high precision processing equipment and world top mold materials, we apply Japanese management experience so that we can make world application for Chinese high level
manufacture
. So far the company have 10 Senior
cuttin
g die engineers and 10 mechanical engineers, 30 well educated workers.
W
the production with good quality and high accuracy which contains cutter die and new productions making together.
The production include: accuracy laser cutting die, rotary cutting die, Trash-cleaning cutting die, hard flexible blade. T
h
e max width can make 700*870 mm; air filled engraving rotary cutter ,air suction engraving rotary cutter, inlaid engraving rotary cutter, thimble engraving fixed cutter, mobile cutter ; magnetic cylinder with roll shoulder, magnetic cylinder without roll shoulder, die cutting bottom roller with the width is 50-1800mm. The coaxial accuracy lever is 0.001-0.01mm. any other related products such as magnetic working table, high precision electric flat
cutting
die, original wire mesh gear and other high accuracy gear.
We make cooperate with many listed company.
T
he company produced so much favorable comments which are relying on the professional technology, high quality and integrity services. Welcome to our company for visiting and communication.
The magnetic cylinders of Hongxun adopt with high quality steel , permanent magnet with high strength adhesive, the extreme precision of outer circle ensure the rotary
cutting
accuracy and stability.
T
he magnetic cylinders have to match flexible blades with same quality to make sure the ideal die cutting effect.
Applications
T
he magnetic cylinders are applicable for all kinds of rotary press with rotary die cutting seat, including full rotation letterpress, full rotation flexographic press, full rotation combined press, batch-type letterpress.
I
t is also used for other special processing equipments, such as commercial form machine, envelope machine, and specialist processing rotary die cutting machine etc.
The gear modulus:
English system 1/8CP and Metric system M1 gear modulus and M2 modulus.
Die cutting mark is dividing in to light, standard, deep; the blade angle is single 30°,35°,40°; the angle of PE is usually between 25°~30°,the angle of paper is usually between 35°~ 40°.
Our advanced sales and technical team could support for professional help. According to the original technical specified and
international
quality standards, we are making and supplying magnetic cylinders with good quality.
| | | | |
| --- | --- | --- | --- |
| name | Material | Hardness | Precision |
| Roller shaft | 45# steel | 55~58 HRC | ±0.03mm |
| Roller shoulder | CR12 Mov | 60-62 HRC | ±0.03mm |
| Body | 45# steel | 20~30 HRC | ±0.03mm |
The magnetic cylinder of Hongxun is one of the high quality in manufacturing, the specification standard contains advanced magnetic controlling power and precision production processing. Plus our producing gear also give our magnetic cylinder a high accuracy. It's also designed for optimizing our flexible blades cutting precision. The Hongxun produced magnetic cylinder matching with suitable flexible blades together, even if the most difficult challenge of production processing ensure the most stringent tolerance measurement and precision, to increase the profits for our clients.
Production
Process
: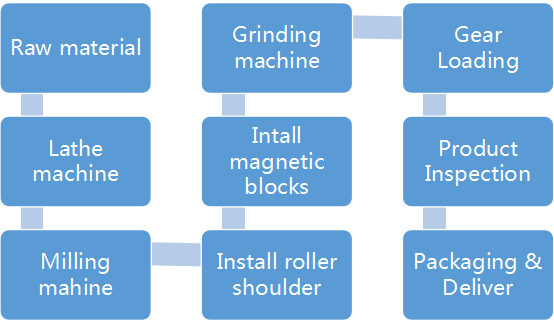 Technical Specifications:
The magnetic cylinders of Hongxun adopted international advanced roller shoulder suit type, ensure excellent stability and abrasiveness of roller.
Adopted high quality permanent magnetic block, ensure its super adsorption. For smaller cylinder , part of them are the same to make sure the cutting blades stability while the different materials are rubbing above the cylinder.
Every magnetic cylinder is required to match with gear which is designed by factory, after precision processing and anticorrosive painting , the gear is the key to ensure cylinder still working.
Choosing high strength adhesive with excellent stability , ensure the magnetic
cylinder'
s surface is smooth and clean.
Between the roller shoulder and body, the accuracy is
controlled
in 1μm, same to the international standard.
magnetic cylinder ordering process
1.
The machine brand and size
2. The gap
3. The Gear teeth number ,
4. The original drawing ( the drawing has to be done well after die cutting , not the real blades line drawing. Remember the drawing mirror image when the round press rotary die cutting is working on.)
5. Trial cutting material
Above all information, customers have to show us when enquired our productions. The max length of magnetic cylinder is in 1200mm as standard.
The comparison
The competitors we have Wink and RotoMetrics, both of them are in Shenzhen. Wink
'
s factory is located in German, another RotoMetrics
'
factory is in USA. Between them, our company is a rising star in Flexible blades and Magnetic cylinders manufacturing, the meanwhile our production
'
s quality and accuracy are excellent high and also with fast speeds.
T
he production process is more
advanced
, good service life and we can make the surface coating treatment.